Mark Webber has branded his post-Singapore GP reprimand for hitching a lift on Fernando Alonso's F138 as 'comical'.

In a series of tweets from his official Twitter account, the Red Bull driver made his clear his disgruntlement at the punishment, which has triggered a ten-place grid penalty at next week's Korean GP.

'For @alo_oficial and me to receive reprimands for our actions after the race it is comical to say the least. Great moment, and fans loved it,' declared the Aussie.

'And while I'm at it, contrary to reports, there was no interaction at all with any track officials after we put the fire out.'

Webber then posted a picture montage of previous occasions when drivers have hitched a lift back to the pits, before highlighting a photo apparently showing Derek Warwick, one of the Singapore race stewards who meted out the controversial penalty, riding on the side of a Ferrari.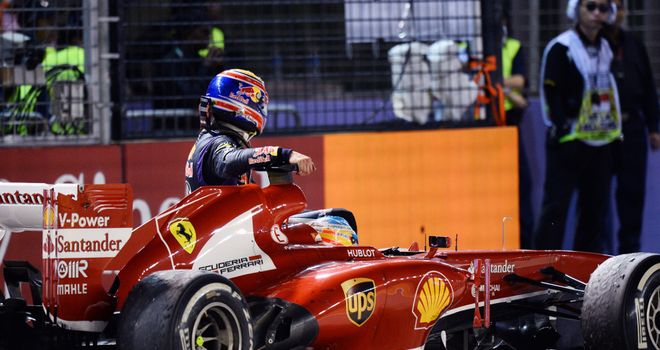 'Looks like even one of the Singapore stewards has done it,' commented Webber. In their statement announcing Webber's reprimand, it was explained by the stewards that the Australian had been punished for entering 'the track without the permission of Marshals'.
Post-race footage also showed both Mercedes cars veering off line on their slow-down lap as Webber clambered onto Alonso's car, with Lewis Hamilton swerving on to the escape road while Nico Rosberg narrowly avoided hitting the Ferrari as it slowed down for Webber in the middle of the road.
"I was doing my in-lap and came round the corner and Fernando was there - I was really shocked," said Hamilton.
"If Mark was walking across where I went, I would have run him over. Fortunately, that wasn't the case.
"I think it's good for fans to see but as long as it's done in a safe manner, where we don't stop on the racing line, maybe it should be allowed for the future."
skysports