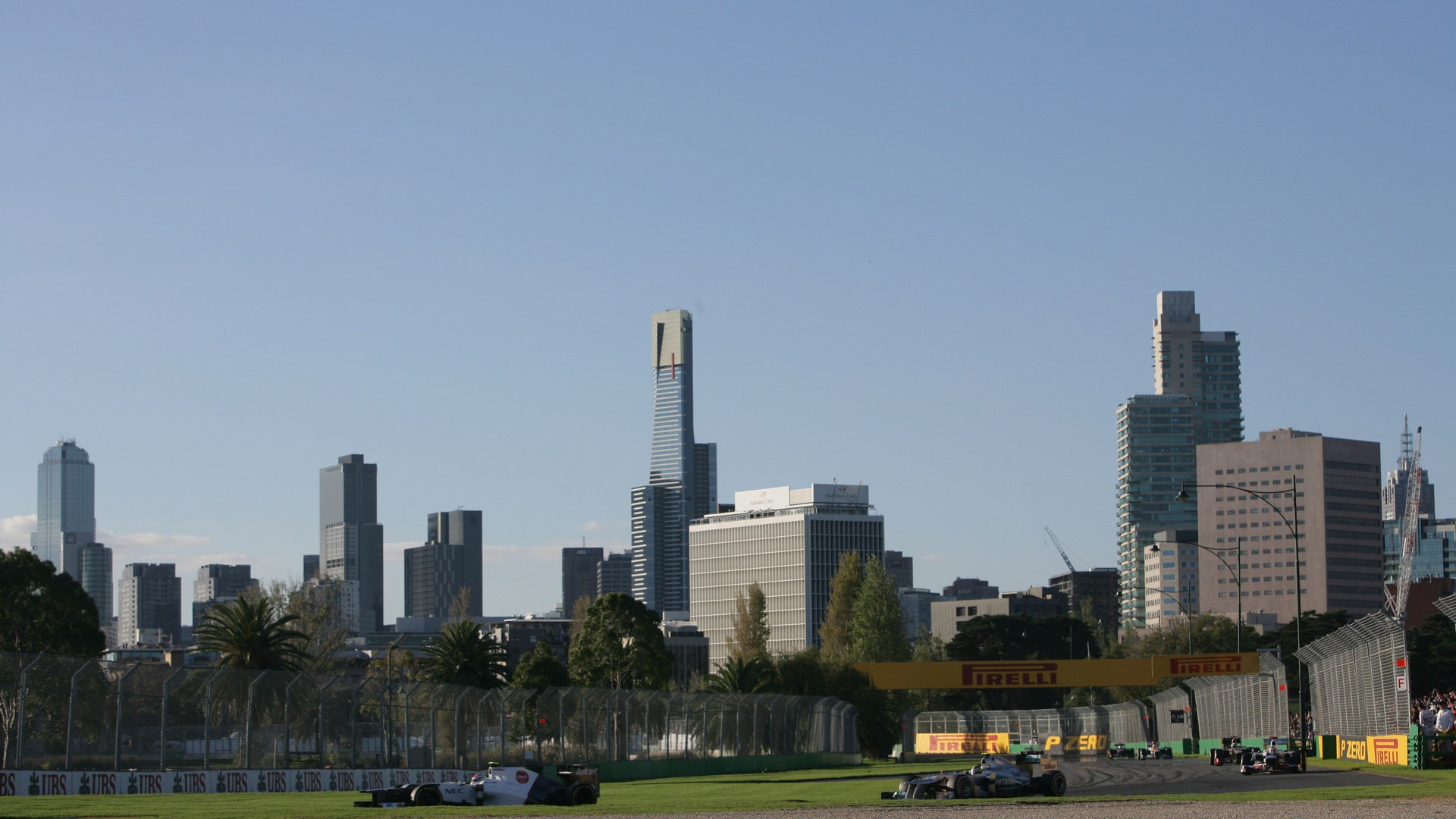 Lewis Hamilton and Nico Rosberg topped the second practice session at the Australian Grand Prix, as Mercedes started to deliver on the pre-season promise it showed in testing.
After completing just half a lap in first practice due to a faulty sensor, Hamilton completed a total of 37 laps and set his fastest time on the soft tyres 70 minutes into the session. His first attempt at a quick lap was baulked by Daniil Kvyat's Toro Rosso, but he returned to the track soon after to displace Rosberg at the top of the timing sheets by 0.157s.
Fernando Alonso was third fastest, 0.507s off the pace of Hamilton, as Ferrari showed decent pace following an inconclusive winter of testing. Sebastian Vettel helped to allay fears Red Bull might have lost its way, with a lap time 0.756 off the Mercedes and healthy total of 41 laps overall. The Red Bull also looked quick over longer runs, although still not a match for Hamilton and Rosberg.
Jenson Button managed the fifth fastest time ahead of the second Red Bull of Daniel Ricciardo and was also within a second of the pace of Hamilton.
Kimi Raikkonen was 1.2s adrift of the fastest time in the second Ferrari but ahead of the fastest Williams of Valtteri Bottas. Williams has never been a team that shows its hand during Friday practice, but with Bottas eighth and Felipe Massa 12th it has not yet followed up on the testing speed it showed during pre-season.
Lotus' grim weekend continued with Pastor Maldonado failing to make it out of the pits for the second session and Romain Grosjean man-handling his car to a total of 12 laps. Grosjean managed to set a lap time, but between lock ups and armfuls of opposite lock it was over four seconds off the pace of Hamilton. Caterham had an even worse afternoon with Kamui Kobayashi ruled out between sessions with an engine problem and Marcus Ericsson managing just one lap before retiring to the team hospitality.
The new breed of F1 cars continued to be a bit of a handful for drivers up and down the grid, but it was only in the last five minutes that a couple of cars had session-ending spins. Nico Hulkenberg lost his Force India on the entry to Turn 9 when he put two wheels on the grass and just moments later Grosjean's Lotus snapped widely out of shape on the entry to Turn 6 and pitched him into the gravel.
Australian Grand Prix 2014
espnf1.com